Breadcrumbs
Color The Sky
Initiatives

Color The Sky
Color The Sky
Each day at the intersection of Virginia and Missouri, just outside the offices of the Rio Grande Cancer Foundation, the multi-colored flag representing all the colors of cancer is proudly displayed. "Coloring the Sky", the flag serves as a reminder of those who are voyaging through cancer and in tribute to those whose journey has ended.
If you would like to "color the sky" in honor of or in tribute to someone, simply call our offices at (915) 562-7660 or send us an email with the information listed below.
For a modest donation, donors receive a keepsake certificate, a highlight on social media that can be shared with friends and publication in the El Paso Inc., a weekly business newspaper. We will send a tax-deductible receipt to you for your contribution.
Your generosity helps support the programs and services at the Rio Grande Cancer Foundation.
---
Please click here to Donate:
(suggested donation: $25)
After your generous donation, please send us an email with the following information to rgcf@rgcf.org.
In Tribute To (or) In Memory Of
Type of Cancer
Please send acknowledgement certificate to: Name, Address and Email
Graciously Donated By: Your Name, Address, Email and Phone
$content->title
---
Sample of Certificate: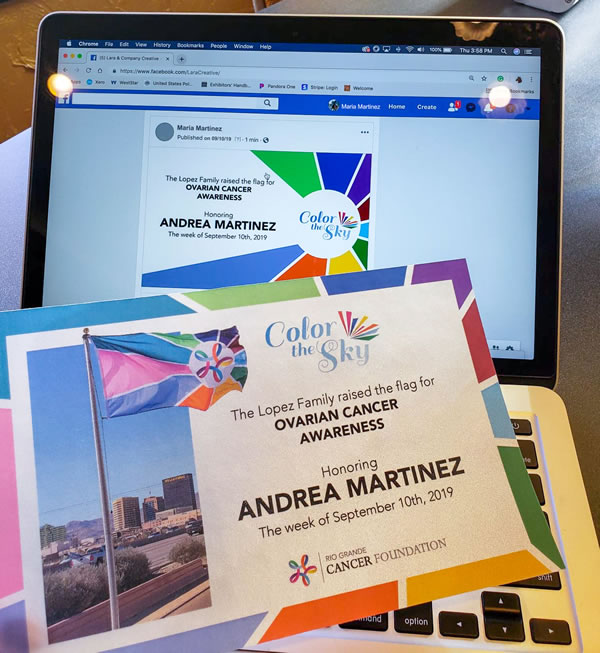 Color The Sky Insights & News
Tools
To Use
Click to view or download the following tools / information in PDF format.