The Green House
our comprehensive resource center and library, named in tribute to Leighton Green, Jr.
---
The J. Leighton Green, Jr. Cancer Resource Center is affectionately named for the El Paso attorney whose journey with Acute Myeloid Leukemia (AML) ended in 1998. While the name of the library "The Green House" was intended in tribute to Leighton Green, Jr. , the name itself evokes light, hope, help and healing.
The Green House is a collection of comprehensive information on cancer, health and wellness information and related topics for patients, caregivers and medical professionals.
From offerings ranging from Alternative Therapies and Cookbooks, to Biographies and Coping - The Rio Grande Cancer Foundation is pleased to offer this vital service through a unique partnership with the El Paso Public Library system. Look for Green House collections at any of the 13 public library locations throughout the city. Click here to view the extensive bibliography and reserve your copy of the latest releases.
---
J. Leighton Green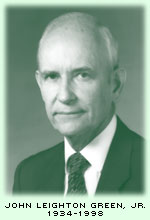 Phillips Brooks once said "The truest help we can render an afflicted man is not to take his burden from him, but to call out his best energy, that he may be able to bear the burden." A diagnosis of cancer presents an overwhelming burden, not just for the patient but for the entire family and support network. It is easier to come to grips with the reality of any crisis if we replace ignorance with information. The Green House, named in tribute to J. Leighton Green, Jr., is a place patients and consumers of any age can turn to get unbiased, reliable information about cancer.
John Leighton Green, Jr. valued and loved family, faith in God, friends, integrity, fairness, compassion and service. He lived them daily. It is our hope The Green House will serve to perpetuate his memory by providing compassion and service to those who are burdened with cancer.