RGCF Announces new 'Colors of Cancer' Run in 2017
20 Dec 2016 by Ted Escobedo
The Rio Grande Cancer Foundation announced the inaugural Colors of Cancer Race (Our Colors Run Together) April 2, 2017 at Cohen Stadium.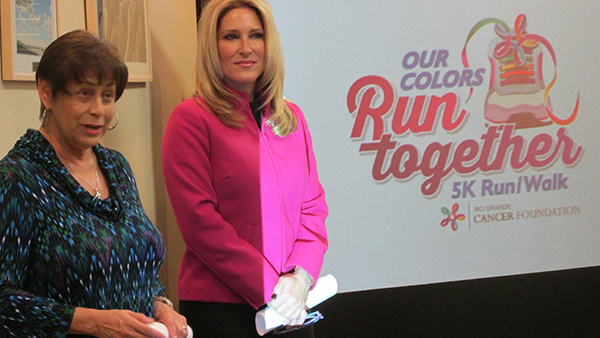 The Colors of Cancer Race was announced at a press conference on December 19, 2016 where board members from the Susan G. Komen Race for the Cure also announced that they will cease operation in the El Paso community.

"When we learned that one of community's major financers of breast cancer services was ending their El Paso event, the Foundation felt compelled to take action to continue to raise money for breast cancer patients, and to keep much needed money in our community"said Patty Tiscareno, Executive Director of the Rio Grande Cancer Foundation."
Tiscareno further stated that 100% of the money raised from the 5K Run/Walk will stay in El Paso and will be administered through the Rio Grande Cancer Foundation, the community's local resource for cancer.
Fifty percent of the proceeds from the inaugural event will be used to fund breast cancer patients through programs and services."We want to assure those who are breast cancer survivors that the Foundation will continue to serve their needs and will carry the Pink Ribbon proudly."
Breast cancer is the second diagnosed cancer in El Paso County, with prostate cancer in the number one position.Other prevalent cancers in El Paso include colon-rectal, lung and skin.
The balance of the proceeds will be designated for existing programs of the Foundation that represent all the colors of cancer.Those programs include the Four Seasons program, The Patient Assistance and Transportation Program, The Green House Library, The Survive and Thrive Support Groups, and the annual Survive and Thrive Conference.
The Rio Grande Cancer Foundation has been serving the needs of cancer patients in El Paso County, Texas for twenty-one years.Over 12 million dollars has been allocated to El Pasoans going through the cancer journey.The mission of the local organization is to reduce the human and economic effects if cancer on the citizens of El Paso County, Texas through the financial support and development of effective programs for advocacy, education, early detection and other services to cancer patients and their families.